Marumi Smith
2019    Certified Remedial Massage Therapist of MMA (AAMT)
2017    Certified Decongestive Lymphatic Therapist (Casley-Smith Method), 
Remedial Massage Therapist (Massage & Myotherpay Australia ) since 1987.
Member of Australiasian Lymphology Association since 2015
Member of NLPR (National Lymphoedema Practitioners Registry) with a tick
2016    30 years Excellency Award from the Grand Hyatt Melbourne
2015  Graduate Diploma in Wellness  at the Graduate School of RMIT University
2011 Certificate IV Training & Assessment / The Gordon TAFE
2009-current   Owner of the Wellness Miroku Australia (Marumi Smith's Remedial Massage Clinic), Torquay Vic
2008 Bachelor of Health Science / Natural Medicine, Victoria University
2007 Level 1 & 2 Certification of Functional Fascial Taping with Ron Alexander Institute
2001-2008 Soft Tissue Therapist at the Melbourne University Sports
2000-2007 Instructor of the Tang Soo Tao Martial Arts-South Eastern School Noble Park, Vic with the help of Instructor Gary Smith
2004 Awarded the Master level of 4th Dan Black Belt rank with the Australian Tang Soo Tao federation
1995-2000 Department Head of the Massage & Shiatsu Section / Tang Soo Tao Martial Arts Centre.   Morland Rd, E. Brunswick Vic
1999-2001 Worked as a Soft Tissue Therapist at the Albert Park Sport Medicine Centre/Olympic Park Sports Medicine Centre
1987 – Current
Member of Massage & Myotherapy Australia (AAMT)
2002 Level 1 & 2 Certificate of Lymphatic Drainage Therapy with the Weller
Institute of Jill Griffith
2001 Diploma of Therapeutic Massage with ASTM including myofascial dry needling
1993 Associate Diploma of Soft Tissue Therapy with ASTM
Certificate of Attendance in post-graduate seminars with the Australian College of Soft Tissue Therapy (Rob Granter)
Certificate in Advanced Soft Tissue Therapy with the ASTM.  Certificate of Infant Massage Instructor with the International Loving Touch Foundation Inc. USA.
Registered with the Victorian government board as a Martial Arts Instructor (1990s)
1992: 1 Dan Black Belt Degree with the Australian Tang Soo Tao Federation
1987-Current
Certificate IV in Massage Therapy with the Victorian School of Massage.   Membership of the Society of Clinical Massuers, currently amalgamated to the Australian Association of Massage Therapists (AAMT) (1987-Current)
1980-Current
Commenced Physical Culture, Chinese Medicine, Martial Arts studies with the Tang Soo Tao Physical Culture and Oriental Studies Corporation, established by Master Robert Caputo (Currently Australian Tang Soo Tao Federation) (1980-2013)
Cecile Lablache   
Remedial Massage Therapist  of  Massage & Myotherapy Australia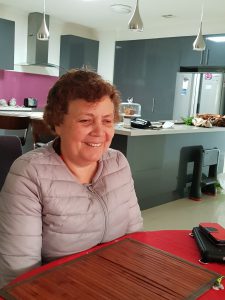 Cecile originally comes from the Seychelles Islands, a group of islands in the Indian Ocean.
She migrated to Australia in 1997.
Prior to becoming a therapist, she was a singer in a band. Then she worked as a telephonist for 12 years where she also trained new telephonists.
In 2009 and 2010 she studied massage therapy at Swinburne University
graduating with a diploma in Remedial massage in 2011.
Post studies include basic Manual Lymphatic Drainage with Voder international, and a certificate in pregnancy massage with PMA.
From 2011 to 2018 she worked and ran her own very successful massage clinic with her partner Lance in Cowes, Phillip Island Victoria.
She recently moved to Geelong permanently.
Her interests include, cooking, being with people and going out for coffee with friends.
She enjoys reading biographies and visiting research materials. She loves singing, listening to classical music, and visiting patients in hospital together with her guide dog Haydn.
She occasionally speaks at functions for Guide dogs Victoria and also to various groups to raise awareness about issues affecting the blind community.
She is a lively person and she loves her work.