Welcome  to the tranquil setting of the Marumi Smith's Remedial Massage Clinic just behind the Surf Shops Complex in Torquay, Victoria.
If you are a visitor to the beautiful Surf Coast, or a resident of the area, the following massage modalities will assist you with your individual needs.
Therapists of the Wellness Miroku Australia (ex-Marumi Smith's Remedial Massage) will identify clients' specific health needs, and assist them to achieve optimal wellbeing through Remedial Massage, Docongestive Lymphoedema Therapy and Discussion about Wellness Balance and Immunity.
On Wednesdays, these services are available at Epworth Geelong Hospital, Pigdons Rd, Waurn Ponds Vic.  Please contact Marumi on 0409 336 861 for booking & enquiry.
   On Sat 20 Jan 2018 4:00 pm – 6:00 pm 
We started New Year with positive imagery!  'Creative Wellness on Fire' at the Surfcoast Gallery in Torquay.  Guest presenters included Peter Roberts of Roberts Music in Geelong, Screenprint artist Margaret Manchee (Melb.) and more.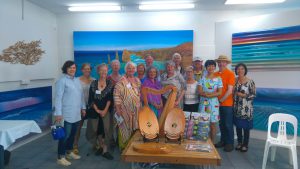 Wellness Miroku Australia promotes eco-sustainability and energy conservation to contribute to the community's healthier environment.